Welcome to my online classroom! It is my goal to have fun while reinforcing a love for reading, writing, and language arts. Mrs. Allhands and I are excited about the incredible opportunity we have to share our classrooms with you this year!
This website is an increible tool to keep parents and studenst up-to-date with what is happening in our classroom. Announcements and reminders will be available here, so check back often!
Click the link below to order Scholastic books for your student, and they will ship directly to our classroom! We also earn points for FREE books and prizes for every dollar spent!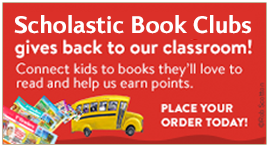 http://orders.scholastic.com/HNTLB