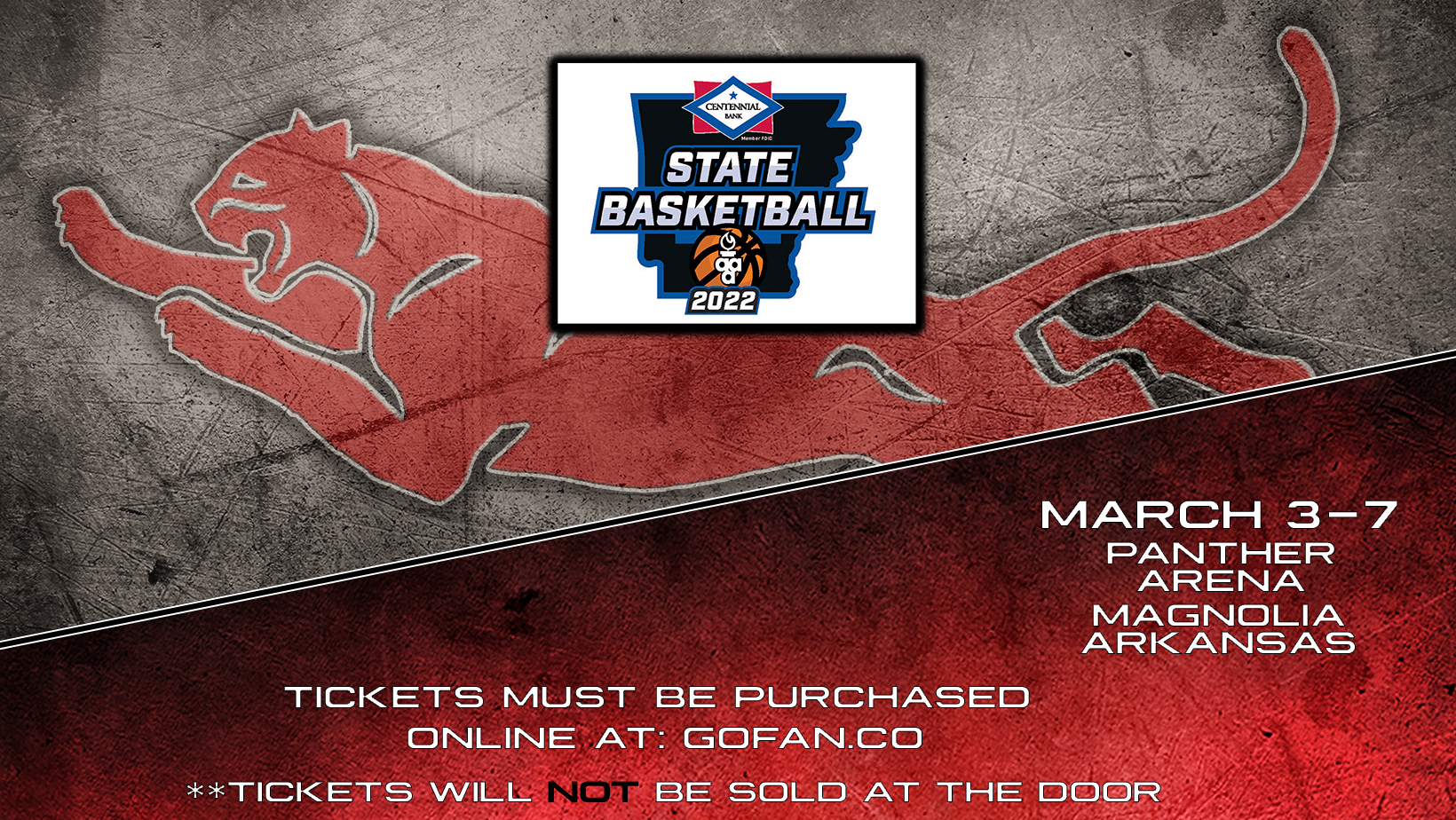 2022 State Basketball Tournament
Congratulations on making it to the 4A State Basketball Tournament. What an exciting time for your players, coaches, fans, spirit squads, and your community! We are delighted to be your host. Our community is a true hidden gem of the south, and we hope your time here is amazing. We have many places to dine out or picnic; we also recommend that you just take a stroll around our beautiful square! We think you will find anything and everything you could imagine while you are here. Chris Carter, Principal Magnolia High School Dyun Long, Athletic Director Magnolia School District
Chris Carter  
   Magnolia High School Principal
4a State Tournament Brackets
ADMISSION POLICY

Admittance is by AAA pass or digital tickets only. No tickets will be sold at the door. Basketball regional, state and finals tickets will be hosted through GoFan, the digital ticketing provider of the AAA. The event link will be accessible on GoFan.co by searching for the host site. Admission will be charged for ages 5 and up. Only digital tickets and AAA passes will be accepted. There is also a GoFan App available for your convenience.
TICKETS

Regionals - $5.00 for adults and students. (4A South Regional Games are being hosted at Nashville High School)
State -$6.00 for adults and students. (4A State Tournament Games are being hosted at Magnolia High School)
State Finals - General Admission $8.00 each day. No reserved seating. Anyone leaving the arena must pay to re-enter. (State Finals are being hosted at Hot Springs Convention Center)
ONLY AAA PASSES ACCEPTED

The Arkansas Activities Association honors for admission to Regional, State and State Finals the DIGITAL PHONE PASSES, CURRENT PREPRINTED AAA PASS BEARING THE AAA LOGO, an Honorary WHITE LIFETIME PASS or a current AAA Media Pass for Regional and State for Finals.
Note: Picture ID will be required for admission at the pass gate.

FILMING OR VIDEOTAPING WARNING

Live Streaming/Broadcasting without permission from the AAA is prohibited. Filming or videotaping for personal use is acceptable as long as all facility rules are followed. Only credentialed media or approved broadcasting groups will be allowed on the floor or in filming areas. Schools can only film games in which they are participating.

SPORTSMANSHIP - Spectators

1. Engage in positive encouragement and support of their team without being rude, negative or derogatory to opponents.
2. Demonstrate respect and appreciation for game officials and the difficulty of the jobs they perform for our schools.
3. Shall not wear full-face paint or mask. Small logos or insignias are allowed.
4. Shall not wear derogatory or suggestive slogans on apparel.
5. Stay off the playing area.
6. Shall not participate in negative, demeaning, or obscene yells.
7. Show respect for public property and equipment.
8. Must wear shirts. No bare chests are permitted.
9. Shall not throw any objects on the playing area.
SPORTSMANSHIP - Indoor Venues

1. Bands, school controlled sound systems and school controlled noisemakers shall be restricted to pregame, between quarters or sets, halftime, postgame and timeouts.
2. The use of artificial noisemakers is not allowed.
3. No handheld signs, balloons, poms, towels, megaphones, etc. are allowed.
4. Poms properly used by school spirit squads are allowed.